Financial highlights

Year ended 31 December 2009
In financial terms, Pearson's goal is to achieve sustainable growth on three key financial goals – earnings, cash and return on invested capital – and reliable cash returns to our investors through healthy and growing dividends. In 2009, we reported underlying growth in sales and operating profit, in spite of the exceptionally difficult macroeconomic environment and against record 2008 results. We achieved significant profit growth in education, helping us to grow even though our markets in US school publishing, financial advertising and consumer books were especially challenging.
Business performance and Statutory results
2009
£m
2008
£m
Headline
growth
CER
growth
Underlying
growth

Business performance

Sales
5,624
4,811
17%
4%
2%
Adjusted operating profit
858
762
13%
4%
2%
Adjusted profit before tax
761
674
13%
Adjusted earnings per share
65.4p
57.7p
13%
Operating cash flow
913
796
15%
Total free cash flow
723
631
15%
Total free cash flow per share
90.5p
79.2p
14%
Return on invested capital
8.9%
9.2%
(0.3)%pts
Net debt
1,092
1,460
25%

Statutory results

Operating profit
755
676
12%
Profit before tax
660
585
13%
Basic earnings per share – continuing
53.2p
47.9p
11%
Cash generated from operations
1,012
894
13%
Dividend per share
35.5p
33.8p
5%
Note Throughout this document (unless otherwise stated), sales and adjusted operating profit growth rates are stated on a constant exchange rate (CER) basis. Where quoted, underlying growth rate exclude both currency movements and portfolio changes. The 'business performance' measures are non-GAAP measures and reconciliations to the equivalent statutory heading under IFRS are included in notes 2, 8 and 31 to the annual report. Adjusted operating profit is stated on a continuing basis.
2009 Sales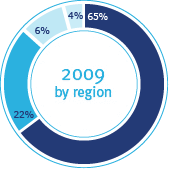 North America £3,663m
Europe £1,222m
Asia £519m
RoW £220m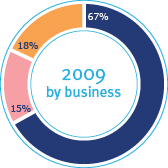 Education £3,780m
FT Group £842m
Penguin £1,002m

2009 Adjusted operating profit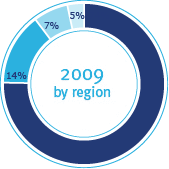 North America £637m
Europe £118m
Asia £58m
RoW £45m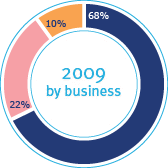 Education £587m
FT Group £187m
Penguin £84m

Our record - Average annual growth in headline terms 2004 - 2009
Sales £m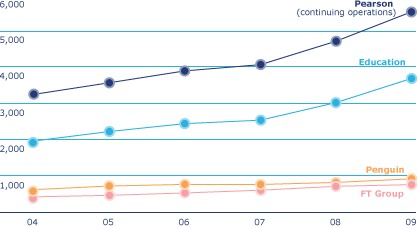 Adjusted operating profit £m


Download the full report... (7,720kb PDF)
Visit the interactive tour...